The Trail Blazer
Eryn Killian
Scientist and educator Pearl Kendrick was a lecturer in the Department of Epidemiology at U-M and changed the landscape of infectious disease to save countless lives.
public health
In 1920, the Michigan Department of Health was facing an uphill battle: infectious disease caused almost 35 percent of all deaths in Michigan, but there was no cure in sight. The state legislature increased Department of Health funding for developing vaccines for what were considered common diseases, among them whooping cough, also known as pertussis. At the time, it killed about 6,000 people in the United States per year, most of them children under five.
That same year, 1920, Pearl Kendrick turned down a promotion in a New York Health Department laboratory to aid the Michigan Department of Health with its fight against infectious disease. In her letter of acceptance to Dr. Cy Young, Michigan's Director of Laboratories, she wrote, "the idea of helping work out the problems of a growing organization appeals to me strongly."
A Singular Goal
Kendrick's hard work and ambition were so impressive that Dr. Young soon promoted her to associate director, and put her in charge of the Western Michigan Branch Laboratory in Grand Rapids. While running the lab, she occasionally took time off to pursue graduate work at Johns Hopkins. Kendrick completed her Doctor of Science degree in 1932, and when she came back to Grand Rapids, she was determined to put her lab to work on a single project. A recent outbreak of whooping cough inspired her to ask permission to work on a pertussis vaccine. "If you are having any fun working on whooping cough," Dr. Young replied, "go ahead."
Scientists had attempted to develop pertussis vaccines in the past, but none had conducted a study rigorous enough to convince doctors it worked. Dr. Kendrick proposed a controlled field study, enlisting doctors, nurses, schools, and families throughout Grand Rapids to help test her lab's version of the vaccine. Because vaccine field studies were relatively new, Kendrick and her partner, Dr. Grace Eldering, had to create all the forms and procedures from scratch. Because their lab still needed to carry out routine public health tests on top of the pertussis research, the two women often worked overtime, returning to the lab at night to analyze more samples. The first trial, which ran from 1934 to 1939, followed more than 4,000 children, allowing them to compare results across a wide range of variables. Those results were promising. The study found that vaccinated children were significantly less likely to catch whooping cough, and even when they did, the cases were milder.
Kendrick faced a brief setback when a similar study carried out by a Cleveland lab found no significant difference between vaccine and control groups. Assuming both studies were valid, the medical community hoped this meant that Kendrick's vaccine was more effective. To test this hypothesis, an additional field study using the Grand Rapids vaccine was carried out in New York. This second study successfully replicated Kendrick's initial results, and her vaccine went into mass production.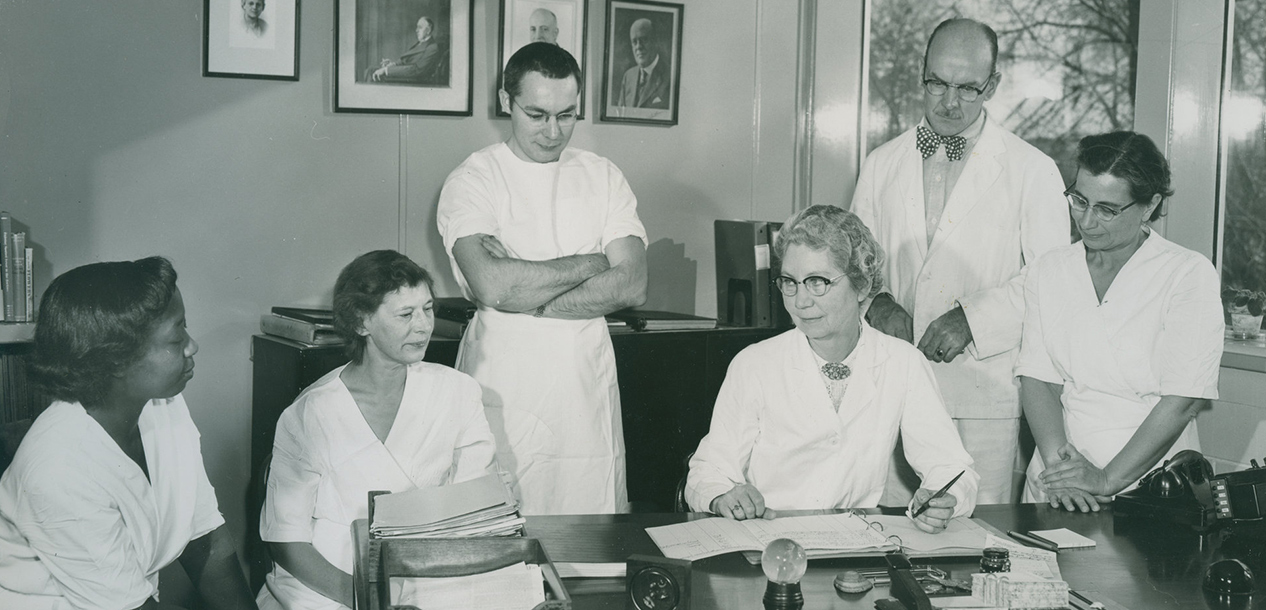 Grace Eldering, third from right, and Loney Clinton Gordon, far left, worked in the lab with Pearl Kendrick and helped pioneer a combined vaccine for diphtheria, pertussis, and tetanus. (Image Courtesy of Grand Rapids History & Special Collections, Archives, Grand Rapids Public Library, Grand Rapids, Michigan)
The Vaccine Finds Success
Throughout the 1940s, Kendrick's team continued to improve the vaccine they created. A third woman in their lab, the African-American chemist Loney Gordon, isolated an especially virulent strain of pertussis that made an even more effective vaccine than the first. Kendrick and Eldering combined the vaccines for three diseases—diphtheria, pertussis, and tetanus—in order to spare children the pain of getting three shots at once. This work made Kendrick a world-renowned expert in pertussis and vaccine field trials, and she traveled widely as a consultant for the World Health Organization.
By 1951, the percent of deaths in Michigan caused by infectious disease had dropped from 35 percent to just three percent, and Dr. Kendrick left the Department of Health to return to education. She joined the faculty of the U-M School of Public Health, where she taught in the Department of Epidemiology, and continued to research whooping cough. The chair of the department at the time was Dr. Thomas Francis, whose own legendary work on the polio vaccine trials of the 1950s owed a debt to Kendrick's pioneering field study.
Kendrick taught at U-M until her retirement in 1960.
Pearl's Passions
The Bentley Historical Library houses Pearl Kendrick's papers, which document the work of the pertussis trials through professional correspondence, lab notebooks, and publications. Her personal correspondence and diaries offer glimpses of her life outside the lab. Her family wrote to her often (including a young nephew interested in the fact that she was "chasing bugs all the time" in her laboratory). She was an avid birdwatcher who recorded descriptions of the birds and flowers she saw while exploring the Nichols Arboretum. And she kept a home with Grace Eldering from the early days of the pertussis trials until her death in 1980. To see a complete list of materials, visit the online finding aid for this collection.